>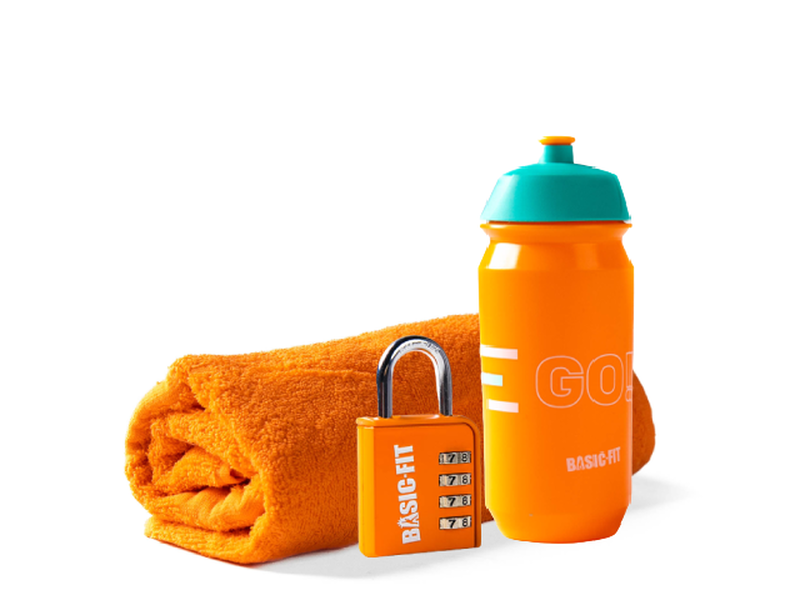 Including: Towel, combination padlock & bidon
Ideal to use on our devices
With easy to set numerical code
Content bottle: 500 ml
---
Gym essentials
Everything you need to exercise in a handy package, with extra benefits: a water bottle, towel and padlock with a number code.
The basics for every Basic-Fit
If you are going to work out at Basic-Fit, you will need a number of things anyway. For example, a towel is required, so we've already included that in this combo deal. And to use the lockers at our locations for your personal belongings, you need a padlock. So we added one with numeric code so you're not left with a loose key. And if you exercise you should of course drink enough, you can do that with the water bottle in this starter pack: 500 milliliters, easy to clean and use and a lot more hygienic than when you reuse a PET bottle.
You can of course also buy these three things separately, but with this combi deal you save almost 3 euros!
Towel dimensions: 60 x 110 cm
Material towel: cotton
Ideal to use on our devices
Material combination lock: iron lock body, chrome-plated, with plastic cover
With easy to set numerical code
Content bottle: 500 ml
Material bottle: PVC (BPA-free)
---